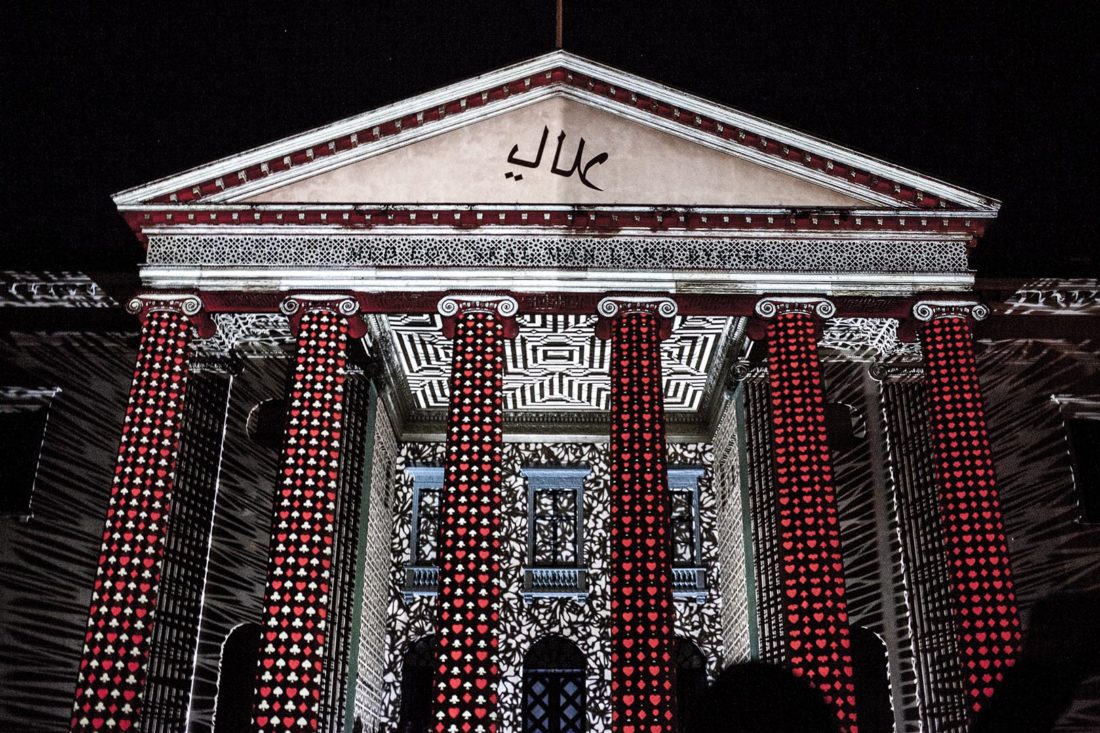 IN THE NAME OF DEMOCRACY – Steen & Hejlesen with Den Sorte Skole
WHAT Visual concert
WHEN 28 Aug. 22 hrs
WHERE In front of the Court House, Nytorv 25, Kbh K – see map
TICKET Free
Manifestation of the anniversary of the constitution
In 2015, the Danish Constitution celebrates its first centenary. Ninna Steen and Thomas Hejlesen mark the occasion with an artistic and cosmopolitan manifestation in front of the Copenhagen Courthouse. They add live DJ'ing by one of Denmark's perhaps most groundbreaking composer duos, Den Sorte Skole, who following their 2010 live tribute to the Roskilde Festival elevated to cult status.
Steen & Hejlesen choreograph the architecture of the courthouse. Their soulful and image-creating grips visualise legal texts, political speeches, images and statistics about the democratic state of the country by means of video mapping. The courthouse, a timeless symbol of power and immortality, gets its façade deconstructed by dystopian and utopian animations. But the question remains: what do we actually celebrate?
The Sorte Skole creates life on a dark and symphonic sound journey sampling powerful disharmonies with melancholic dreams, setting the mood for a thought provoking midnight mass in the heart of the city. 
DURATION 40 min.
PHOTO Maja Nydal Eriksen

CREDITS 
Idea & video Steen Hejlesen & Ninna Steen
Music Den Sorte Skole with Martin Højland & Simon Dokkedal
Performer Nana Francisca Schottländer
Technical assistance Kanonproduktion
Production Von Heiduck
Co-production Københavns Internationale Teater
Support Statens Kunstfonds Projektstøtteudvalg for Scenekunst, Statens Kunstfonds Legatudvalg for Musik, Gangstedfonden, Sonning-Fonden, Dansk Artist Forbund
Thanks to Københavns Domhus, Laboratoriescenen/Dansehallerne, Ralf Richard Strøbeck, Niels Grønbæk, C.W. Obel Ejendomme A/S