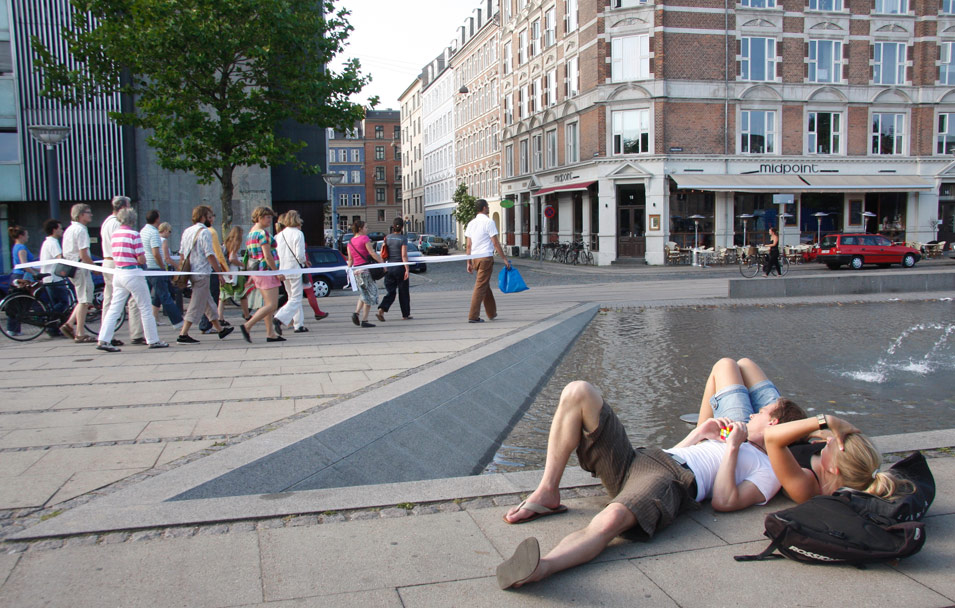 HERE WHILST WE WALK – Gustavo Ciríaco & Andrea Sonnberger
v/ Karrierebar / Flæsketorvet 57-67 – 20-08 – 22-08.2009 kl. 17 og kl. 20 (75 min.)
Bungy walking gennem byen. Koreograferne Gustavo Ciríaco og Andrea Sonnberger tager dig med på en guidet elastik-tur i et velkendt bykvarter. Gennem nye øjne ser du det, du troede, du kendte så godt.
20 mennesker bliver snøret sammen af et stort stykke elastik – som en slags bungy walking. Gruppen føres ud i byen som en flok flaneurer, der vandrer gennem byens gader og lægger mærke til hver eneste detalje. Alle er stille på vejen. Og næsten umærkeligt forvandler gruppen sig langsomt til en levende organisme. Generthed over de forbipasserendes sigende blikke ("Er det en ny flok idioter?") forandrer sig til en slags samhørighedsfølelse (på trods) og en følelse af intens sikkerhed.
Du observerer den moderne by og mærker fysisk, hvordan du er en del af noget større.

"HERE WHILST WE WALK invests through a silent group walk on the possibilities of inhabiting the urban space through another politics of sharing and of perception. "It's like they hold up a magnifying glass to the familiar, so you see things in a whole new way." Eduardo Bonito artistic director, Panorama Festival in Rio de Janeiro
Creation, discussion & performance: Gustavo Ciríaco & Andrea Sonnberger
Co-production: alkantara (Portugal) & Panorama de Dança (Brazil) festivals
Support: Tanztendenz München e.V., Goethe Institut Rio de Janeiro
Subvention: Kulturreferat der Landeshauptstadt München, BLZT, European Cultural Foundation
Here Whilst We Walk was created within the frame of Encontros 2005/06, an initiative of alkantara (Lisboa) with the collaboration of Panorama de Dança (Rio de Janeiro).