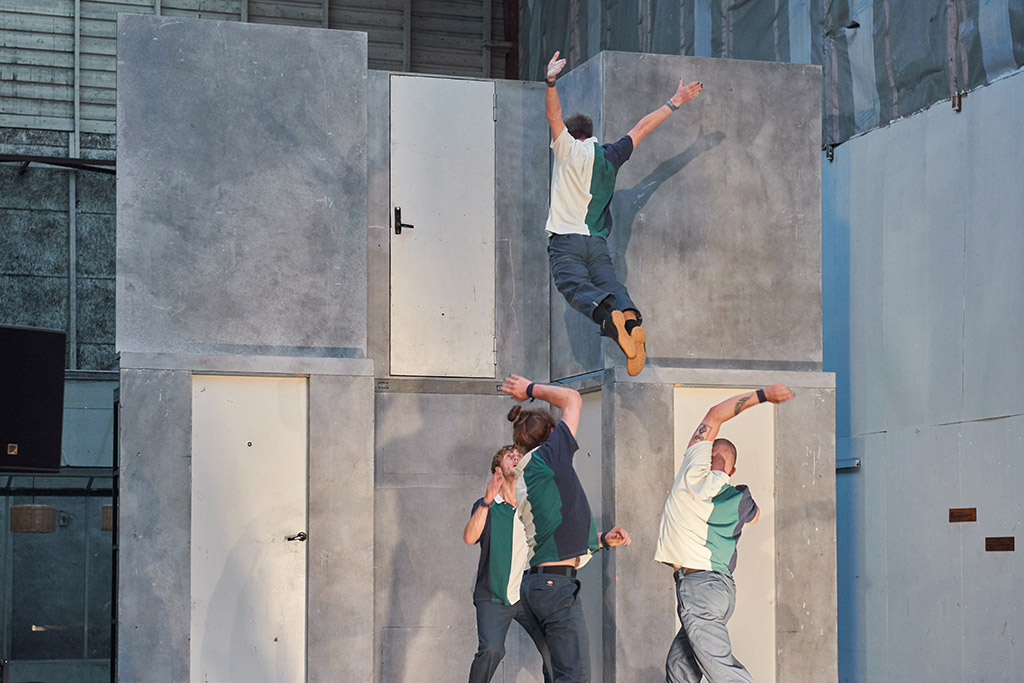 Exit – Circumstances
TOOK PLACE 8-9 August at 19.00
PLACE Beddingen, Refshaleøen – meeting place: across from Refshalevej 173A, Cph. K
NB! Due to the weather, the performance will be performed inside. The meeting place is the same.
WHAT Circus
FREE – It is no longer possible to reserve a free ticket due to limited number of seats. However, feel free to take the chance and show up, but we can't guarantee a seat or good visibility.
Reserve ticket
Flying walls, revolving doors and whirling circus artists
Between flying walls and floating doors, four artists swirl between each other. Like propellers, they set each other in movement. They climb, lift, jump over and under each other. A clockwork of timing and balance. Until one messes up and they crash. Bang. Continue. Over again. Four individuals, deeply dependent on each other.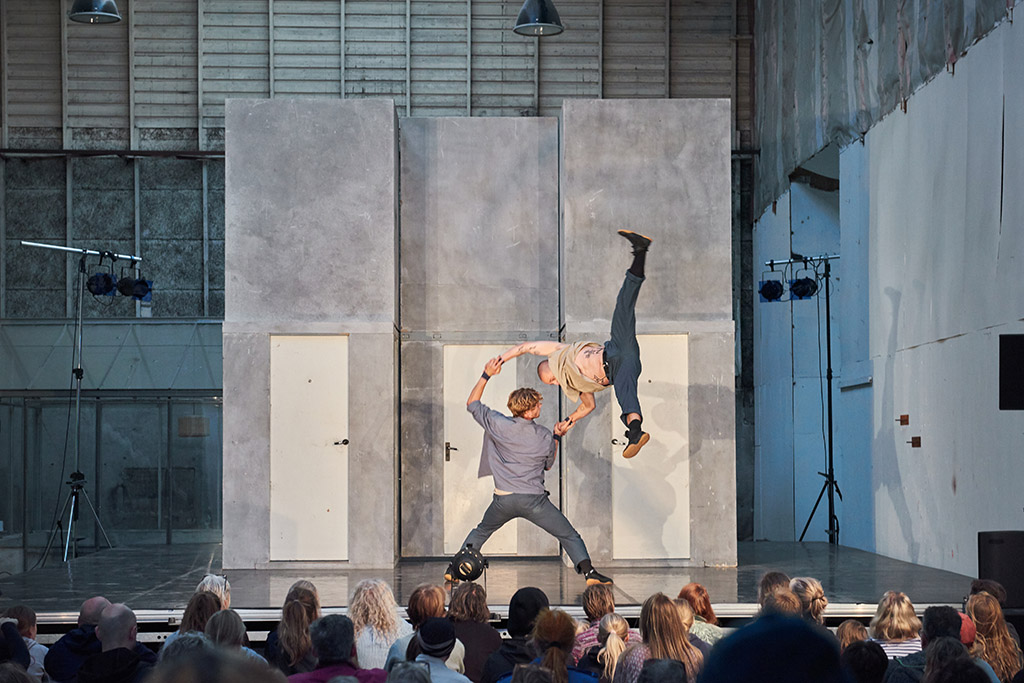 They swing around in an impressive installation where everything can turn and float. They arrive and depart, meet and split, appear and disappear. Just like the rest of us, they are always on their way somewhere. But what if you suddenly can't find your way back home?
EXIT is a high-intensity and fantastically confusing circus performance that will keep you on the edge of your seat. A flirtation with danger. Four circus artists, four circus disciplines, one common language. An anarchic tribute to the body that defies the physical laws of architecture.
ABOUT THE ARTIST
Piet Van Dycke is the leader of the circus and dance company Circumstances. He is an acrobat and choreographer and always works with almost mathematical choreographies, where everything goes fast. For each performance, he finds the right team of circus artists – this time with circus disciplines both in the air and on the ground.
Since their big break-through in 2021, they've toured Europe and the world, and we're lucky to have convinced Circumstances to come to Copenhagen for exactly the two days left on their calendar this summer.
"Circus is not about achieving but challenging the impossible. The search for the limits of balance, gravity, time and endurance creates a unique dance." – Piet Van Dycke
★★★★ – Ron Rijghard, NRC
…Solo, two and finally four, they perform astonishing, dangerous-looking acrobatics… Their double talent makes Exit an exciting hour of physical power.
★★★★ – Annette Embrechts, Volkskrant
Exit is a playful and sophisticated combination of acrobatics, dance, slapstick and balance-art. The work of the young choreographer Piet Van Dycke excels through an organic mix of light-footedness and heaviness.
★★★★ – Filip Tielens, De Standaard
The piece cleverly builds up to an impressive apotheosis (…) the performers hoist themselves into the air, slide off the wall and the four of them look for a balance that they eventually find. Impressive (…) the sensation of the weekend.
Eric Nederkoorn, Dagblad van het noorden
The breathtaking performance blows you away. It is a combination of dance and circus, with four loners who, after initial resistance, need each other to find balance in their lives.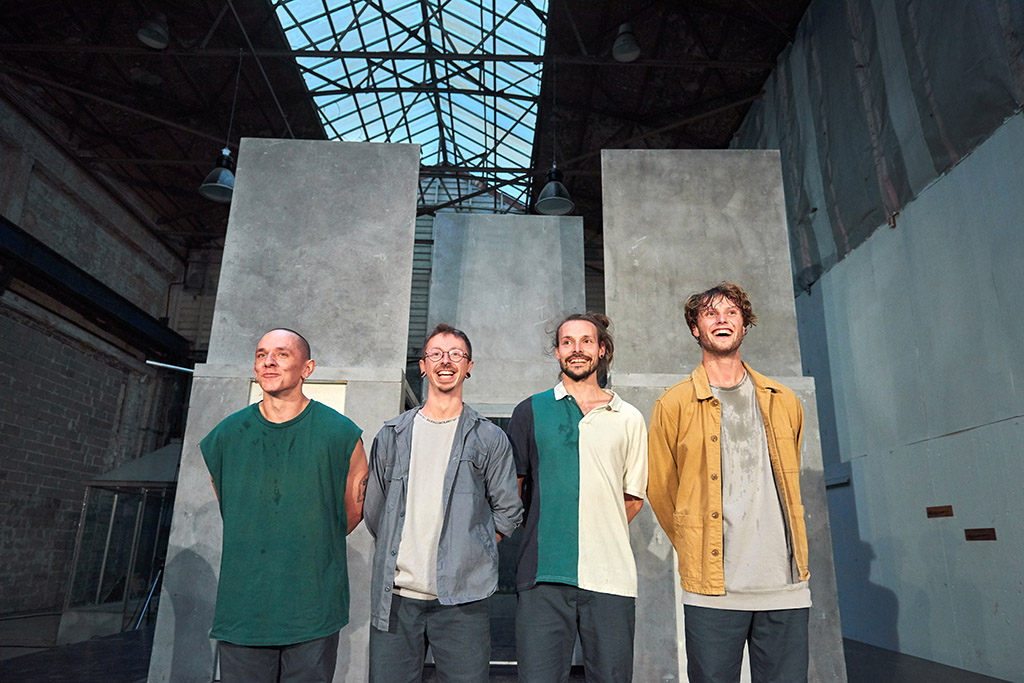 CREDITS
Concept, choreography: Piet Van Dycke
Performers: Christopher Mc Auley, Luuk Brantjes, Samuel Rhyner en William Blenkin
Music: Bastiaan van Vuuren/Bastian Benjamin
Dramaturgy: Marie Peeters
Installation: Arjan Kruidhof en Arjen Schoneveld
Scenographic support: Menno Boerdam
Technique: Casper Van Overschee
Research: Bavo De Smedt, Marius Cavin en Raff Pringuet
Coproduction: Festival Circolo, DansBrabant, Theater op de Markt-Dommelhof, HET LAB Hasselt, circ'uit, Miramiro, Cirklabo
With support of: PLAN, Stad Leuven, Grensverleggers/deBuren
Photo: Marine Gastineau
Duration: 1 time