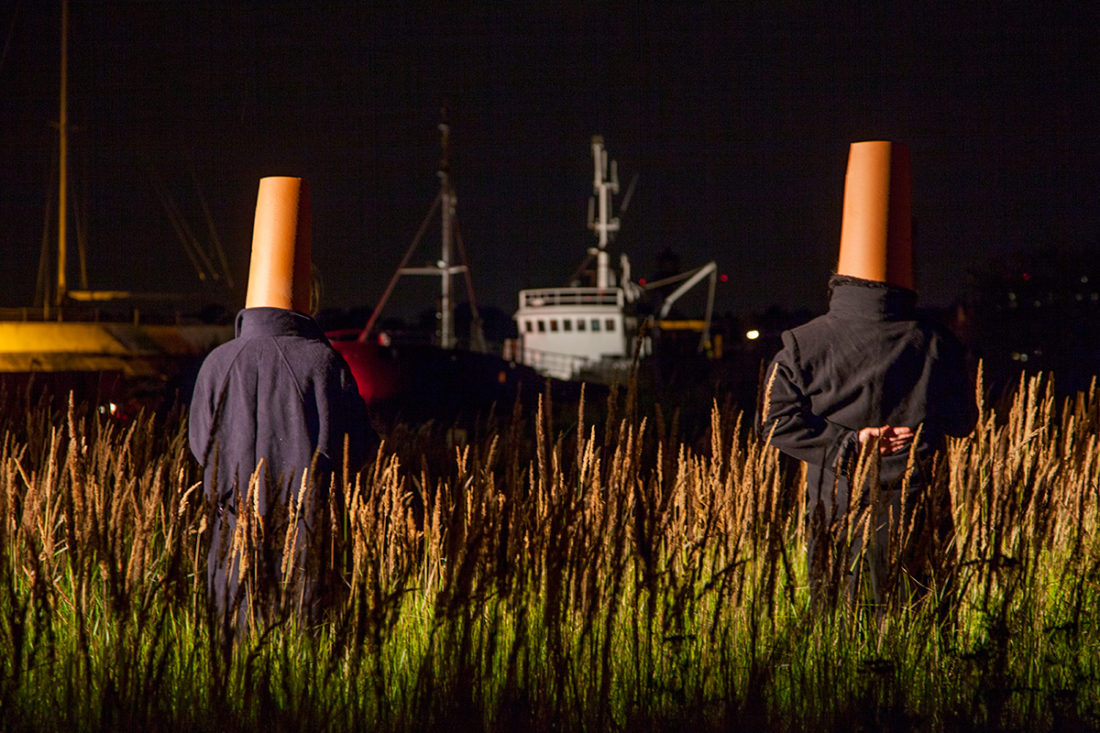 COOPERATZÌA: THE TRAIL – Le G. Bistaki
WHAT Outdoor peformance
WHEN 16, 17 & 18 Aug. 21.30 hrs
WHERE Busstop "Refshaleøen" where bus 40 terminates, Refshalevej – see map
TICKET 95 kr.
CHOREOGRAPHIC CIRCUS WITH 1500 ROOF TILES
A group of mysterious men dressed in long coats guide us into a deserted cinematic landscape in between run-down industrial buildings at the edge of the city. Only lit by a few lamps, they take us through the twilight to a place covered by a huge amount of tiles, all laid out like a carpet and shaped like urban sculptures.
With ritual, poetic dance sessions, the dark-clad men lure us in a nonchalant manner until they suddenly burst into fiery, acrobatic choreographies, where the tiles fly all over the place. They juggle them, throw them to the ground and trample them with their feet until they break into a thousand pieces.
In this obscure, magical universe, clearly inspired by the iconic Polish director Kantor, logic and story has been  set aside in favour of mood, energy and presence. With a mix of urban new circus and decadent dance, the company creates an exceptionally beautiful performance in the middle of the industrial wasteland.
DURATION 60 min
AGE from 10 years
PHOTO COPENHAGEN Thomas Seest 
COOPERATION Teaterøen and Refshaleøens Ejendomsselskab, as a part of Asteroiden 

CREDITS
With & by: François Juliot, Jive Faury, Sylvain Cousin, Nicanor de Elia, Florent Bergal
Light design: Hugo Oudin
Video: Guillaume Bautista
Photo: Vincent Muteau
In cooperation with: Préfecture de la Région Midi-Pyrénées/DRAC Danse, Programme de coopération territorial Espagne-France-Andorra, Conseil Régional Midi-Pyrénées
Co-production: La Pépinière des Arts du Cirque Toulousaine (La Grainerie-Balma/le Lido-Toulouse) L'Usine-Lieu conventionnée dédié aux arts de la rue Tournefeuille, Mix'art Myrys, Toulouse, Espace Périphérique (Ville de Paris, Parc de la Villette), Association regards et mouvements, Usson en Forez-La Petite Pierre, Jegun
Under the patronage: Terréal for tiles stocks
FIGURINES Grazia Weiss Levi, Carmel Ennis, Kirstine Marie Fabricius, Frej Elvekjær Klæbel, Sophie Bajeux, Lisa Jones, Nina Cholet, Irene Hougaard, Aida Redza, Julia Christina Schmidt, Michael Blach, Josefine Blach
SUPPORT Institut Français, la Mairie de Toulouse, Région Midi-Pyrénées, Terréal & mobility aid from the IN SITU network, in the frame of the META project, with the support of the European Commission (DGEAC-Culture programme)