BODIES IN URBAN SPACES – Willi Dorner
Follow the elusive and colourful human sculptures for 7 km across the city
DATE
Thu. 20 July 15.00 & 19.00
Fri. 21 July 16.00 & 19.00
Sat. 22 July 15.00 & 19.00
PLACE
From Christianshavns Torv to Nørrebro – you can join halfway at Israels Plads 16.15 or 20.15
FREE
This year marks the 10th anniversary of Willi Dorner's mega hit 'Bodies in urban spaces'. After having been performed in more than 100 cities worldwide, among them Copenhagen during Metropolis 2011, we have now created an anniversary version with 45 performers on a 7 km route in a choreographed anarchy across Copenhagen.
You immediately catch sight of the spectacular, colourful body sculptures. A man is stuck below the cornice. A pile of tangled bodies is wedged into a doorway. We spot a woman balance on top of a pylon. A serpent of people is framing the stairs.
The bodies wedge themselves into the city's overlooked cracks and gaps and make us open up our eyes. But just as fast as the images emerge, they disappear again. The performers continue, followed by the curious audience, and the exploration of the city continues in a new place.
Willi Dorner has walked from Christianshavn to Nørrebro to choreograph the route with a series of 100 physically frozen moments. If 7 km is a bit too much for you, you may join at Israels Plads.
The performance started as a playful study of how many people could be squeezed into a phone booth or a doorway – and as a rebellion against the people who decide how we should use the city's space. 'Bodies in urban spaces' now occupy buildings, squares, roofs, trees and telephone masts across the world and let us dream about the ultimate freedom of movement in our cities.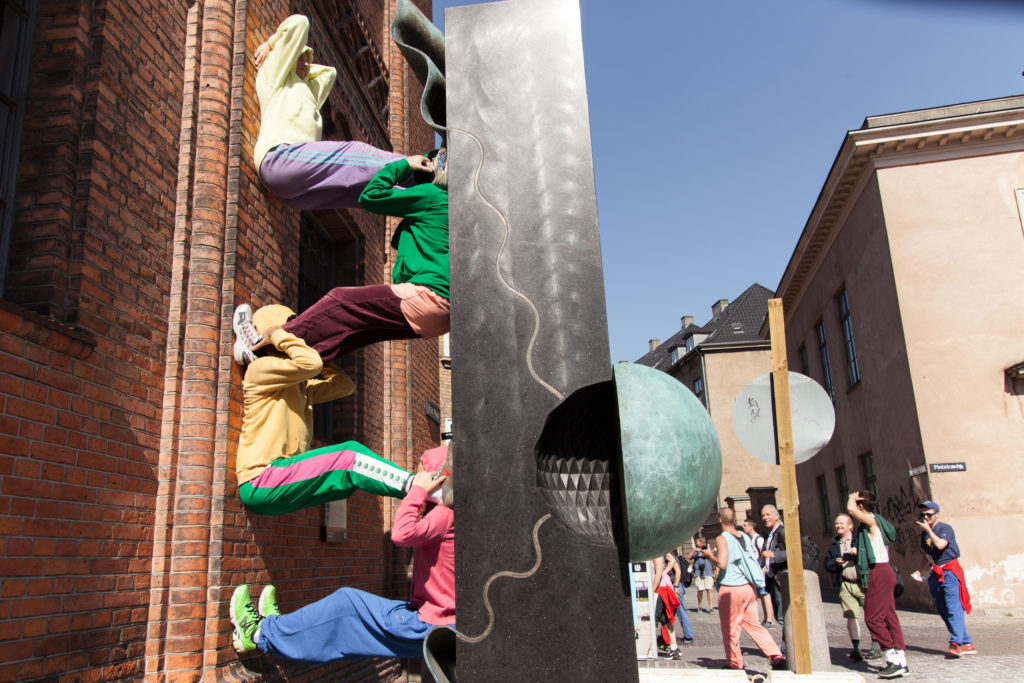 About Willi Dorner
Austrian Willi Dorner is a dancer and choreographer who draws inspiration from visual and installation art. Back in 1999 he founded Compagnie Willi Dorner, and he has since then created and toured internationally with a large number of performances, often in collaboration with artists and researchers from different fields and always with base in the body's relation to space and architecture.
His works have been presented at all the major festivals and theatres in Europe and internationally, and 'Bodies in urban spaces', now in its 10th year, is still in great demand.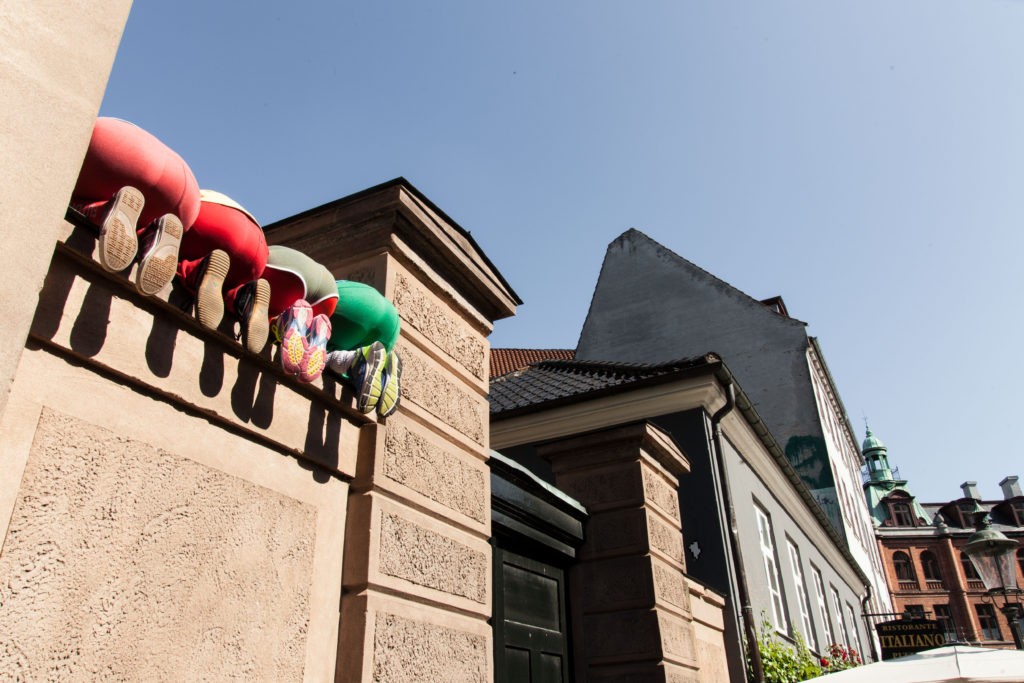 "Whether it's people spilling out of doorways, climbing up trees, crouched on rows of steps or sandwiched into concrete crevices, the idea is all about looking at the city afresh – about looking at the urban environment and the city architecture differently, and they use bodies to get a new perspective on architectural surroundings." Time Out
Map of the route:

Duration 2,5 hours
Credits
Concept & choreography: Willi Dorner
Choreographic assistance: Esther Steinkogler, Nick Keegan, Ian Peter Dolan
Perfomers: Alex Eliasen, Emilie Gregersen, Ida Frost, Mari Vincentz, Daniela Escarleth Pozo, Viola Droese, Ida Pedersen, Jodie Taylor, Karin Bergman, Oliver Marcus Starpov, Alaya Vindelman, Greta Hadley, Oriane Paras, Simone Ballan, Celine Larsen, Claus Rasmussen, Louise Elfi Sóley Gade, Ilon Lodewijks, Adrian Skjoldborg, Frej Mortensen, Maria Öhman, Nina Cholet, Ichi Go, Maayan Reiter, Gat Goodovitch, Martha Pasakopoulou, Esther Kaijim, Ricardo Pereira, Jacqueline Cousineau, Rebecca Dirler, Britt Kamper, Laïla Frattini, Nathan Benson, Evandro Pedroni, Chloé Chevaleyre, Amy Lovelock, Laura Brera, Daniel Timms, Anna Simpson, Laura Tuorila, Giovanni Antona, Mareike Degenhardt, Tim Wiseloh
Production: Stefanie Reichl, Emanuela Panucci
Photo: Maja Nydal Eriksen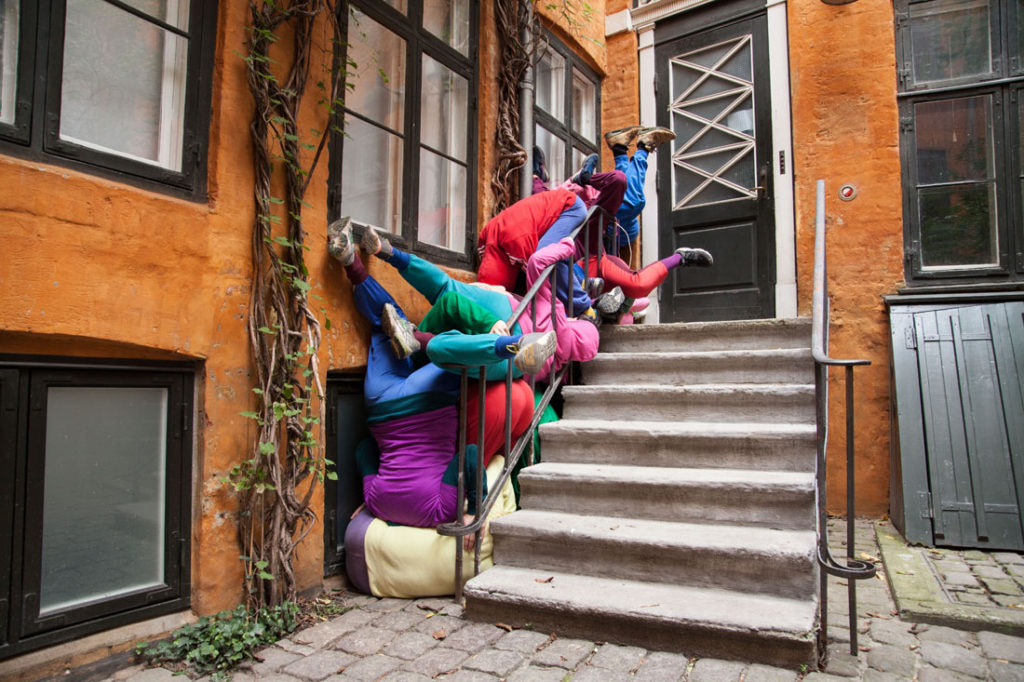 Bodies in urban spaces is supported by the IN SITU network, in the frame of the Platform and ACT projects co-funded by the Creative Europe programme of the European Union.