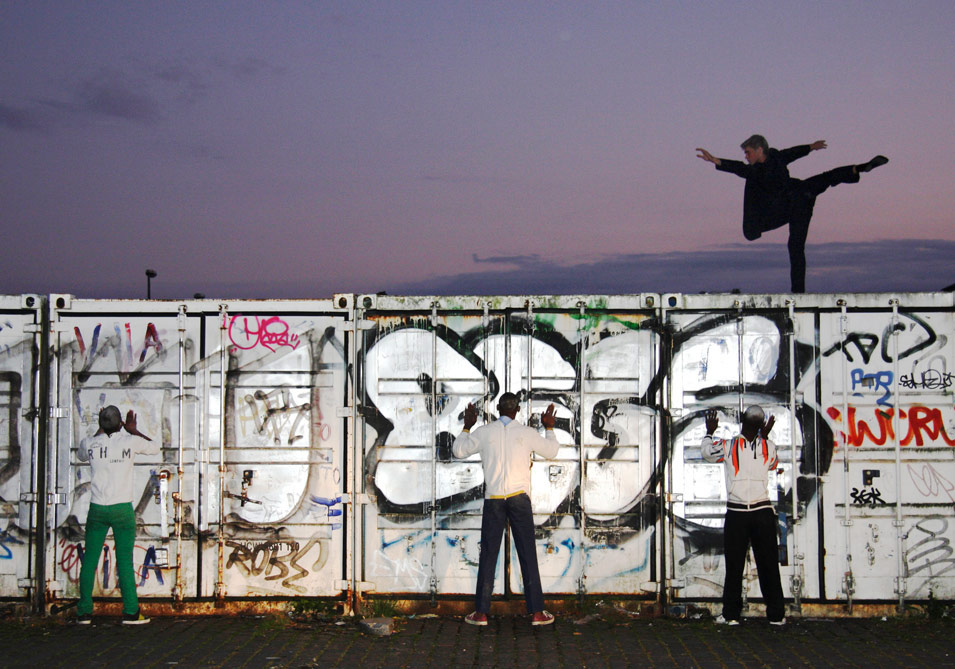 BLIND SPOT – Jay Pather
Nørreport Station // 03.-09.08.2009 kl. 19 (minus 7. & 8. aug) // varighed: 3 timer


Den prisbelønnede sydafrikanske koreograf JAY PATHER skaber en ekstraordinær danseperformance til og om København, der organisk udfolder sig på scenen – ruten mellem byens ydre og byens centrum
Blind Spots eller blinde vinkler er de oversete steder på et kort eller på vejen. Det er de elementer, som ikke bliver set – ved et uheld eller med vilje, bevidst eller ubevidst – for at undgå konflikter eller pinlige situationer.
6 sydafrikanske dansere kortlægger sammen med 5 danske dansere det psykologiske og følelsesmæssige møde mellem bestemte mennesker i et personligt øjeblik. I samlet flok går publikum langs Nørrebrogade og støder undervejs på fem danseperformances. Hele tiden fornemmer man metropolens og menneskets skrøbelighed lige under overfladen.
BLIND SPOT er udviklet under Metropolis Laboratory 2008.
Eleven dancers from different cultures map the psychological and emotional meeting ground amongst diverse individuals caught in personal moments. Five especially made performances take place at sites along Nørrebrogade, all the way to the centre of the city.
Conceived & directed by: Jay Pather
Cast:                   
Ntombi Gasa (South Africa)
Nhlakanipo Cele (South Africa)
Rosa Isaldur (Denmark)
Susanne Judson (Denmark)
Khanyiso Kunene (South Africa)
Sandile Mkhize (South Africa)
Zozo Mposula (Denmark)
Pravika Nandkishore (South Africa)
Mxolisi Nkomode (South Africa)
Aida Redza (Malaysia)
Peter Russell (United Kingdom)
Reidar Sjoeset (Norway)
Also appearing:                 
Rama Amtrup
Reisa Reyes Castro
Joe Nyamaei
Barthelot Ekeme Same
Meire
Video: Martin Kløft
Foto: Torben Huss
Special thanks to the University of Cape Town