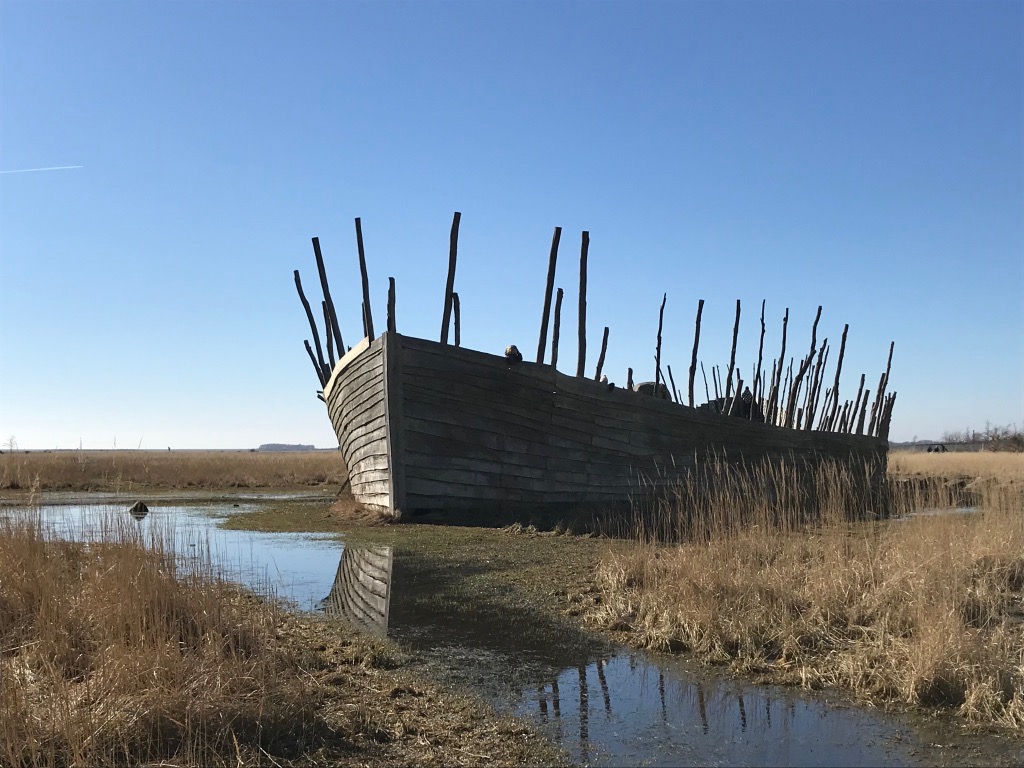 Back to the Sea – by Lisa Brüning & Alfio Bonanno
A pilgrimage on bicycle from the stranded ark towards the sea
TIME: Fri-Sat-Sun 5, 6, 7 Aug. & 12, 13, 14 Aug. at 17.00
MEETING PLACE: Naturcenter Amager, Granatvej 7, 2770 Kastrup
TICKET: 50 DKK – incl. possible bike rental, see more below
Køb billet
In the middle of Kalvebod Fælled lies an ark. Like a surreal dream vision, it emerges in the middle of Ørestad's futuristic city and the vast natural landscape. It has landed here thanks to the legendary landscape artist Alfio Bonanno.
Our pilgrimage begins here in Bonanno's stranded ark, where he welcomes us. It is a journey to connect the ark, nature and ourselves with the sea. A journey to connect with something greater than ourselves.
The journey takes us through both time and place. On this former seabed in the middle of man-made nature, we travel back in time to unearth the stories of the landscape. Back to the Sea is a joint ritual where we search together for what we have lost.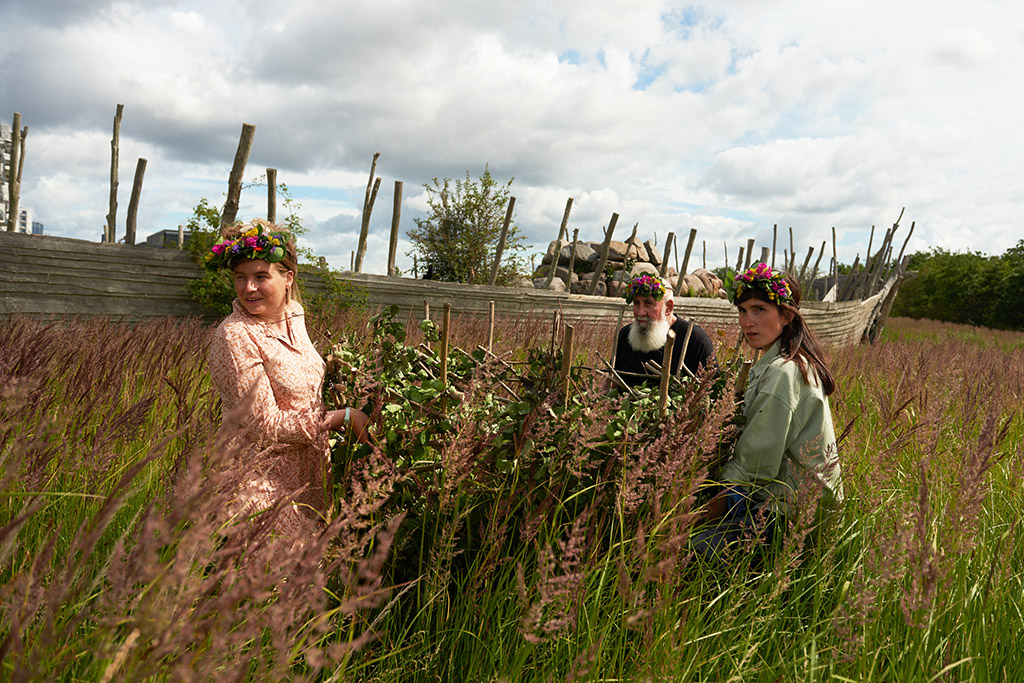 We start empty-handed, and together we build and collect along the way what we want to take with us further. What do we need to get out of the situation that we, the world and the climate are in now? We are stranded and need to find a way forward.
Back to the Sea is a pilgrimage by bicycle guided by the five artists. Like a real pilgrimage, the journey takes us through different stations: The Ark, Granathullet, Pinseskoven. The journey ends at the Pump Station, which serves as the cathedral through which the traditional pilgrim moves before the final encounter with the Sea, with the final destination, with eternity.
PRACTICAL
The journey lasts a total of 3 hours incl. 13 km of cycling between the individual scenes.
Preferably bring your own bicycle. Alternatively, you can borrow from Naturcenter Amager. If this is desired, please send an email to info@kit.dk in advance.
The performance is in English. Parents are welcome to translate.
Children are welcome – on the backseat or on own bike if they kan bike 13 km.
There is a limited number of seats in a car per performance for people who cannot bike the whole way. Please request on info@kit.dk.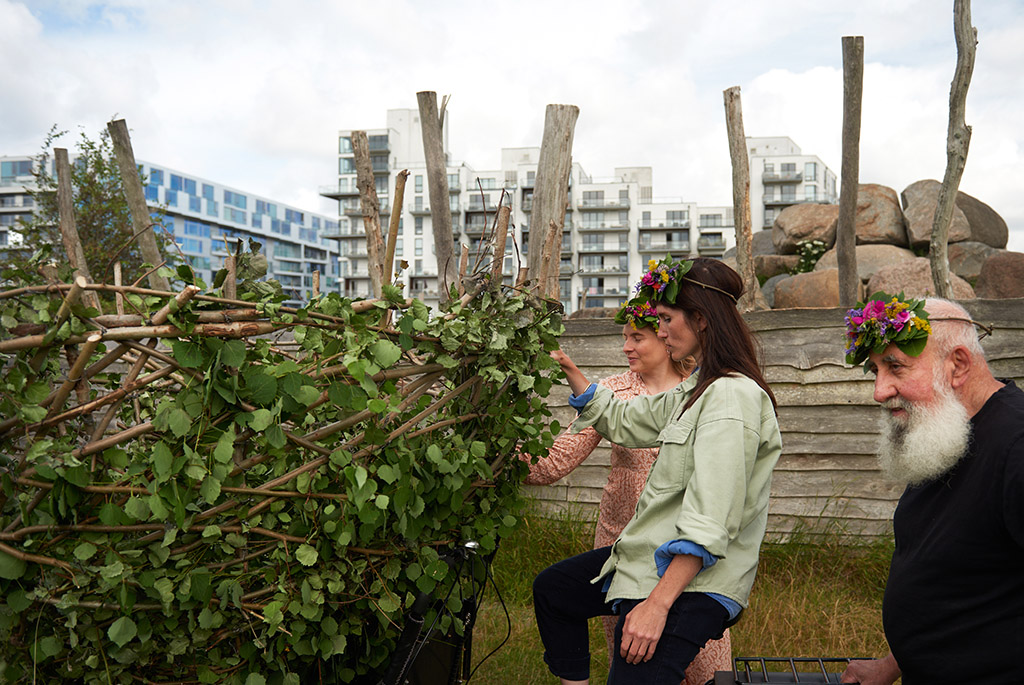 ABOUT THE ARTISTS
The German theatre maker Lisa Brüning and the Sicilian-born, resident land-art artist Alfio Bonanno met in 2020 at Vestamager. Since then, they have found artistic unity in the desire to complete the mission that started in 2004 with Alfio's ark at Kalvebod Fælled – a mission to create a connection between people and nature.
They have created Back to the Sea together with actor Peter Flyvholm (DK) and scenographer Elisabeth Holager Lund (NO/DK).
Lisa Brüning is a theatre director and primarily works internationally with site-specific, modern rituals that explore how people relate to nature in our time. She mixes participatory art with installations to evoke feelings of community. She is educated from the Hochschule für Schauspielkunst "Ernst Busch" in Berlin. She has directed plays e.g. at Volksbühne Berlin, Staatstheater Oldenburg, Goethe Institute Tel Aviv, and Teaterøen. She has known Alfio Bonanno's works since childhood, when she played in his TICKON Park in Langeland.
Alfio Bonanno is an artist and activist with a focus on the environment and nature through large-scale, site-specific installations, e.g. at Louisiana, Arken, the Miró Museum in Barcelona and the Venice Biennale. He is a legend within the genre of 'land art' and has created many iconic installations with natural materials in more than 23 countries.
Peter Flyvholm is an actor and works within a broad field of both experimental and classical stage art. In a constant search for new forms of physical expression, he has created his own theatre collective Cheer Extreme.
Elisabeth Holager Lund is a scenographer, architect and performer. Her work examines the relationship between place and storytelling with a particular interest in physical transformations and fragile structures.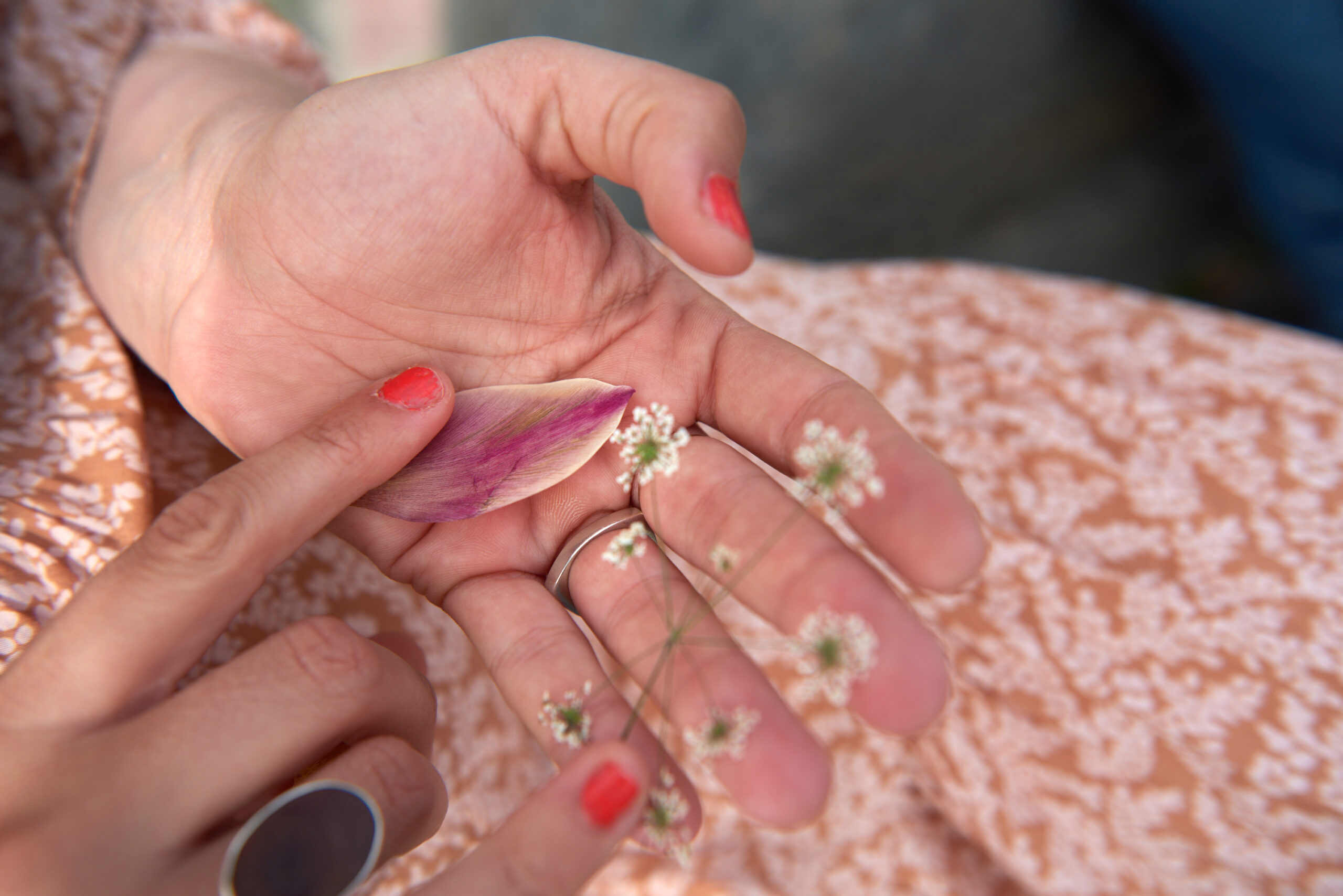 Presented by Metropolis with support from the City of Copenhagen, the Danish Arts Foundation, Tårnby Kommune and Amager Vest Lokaludvalg
Photos: Marine Gastineau