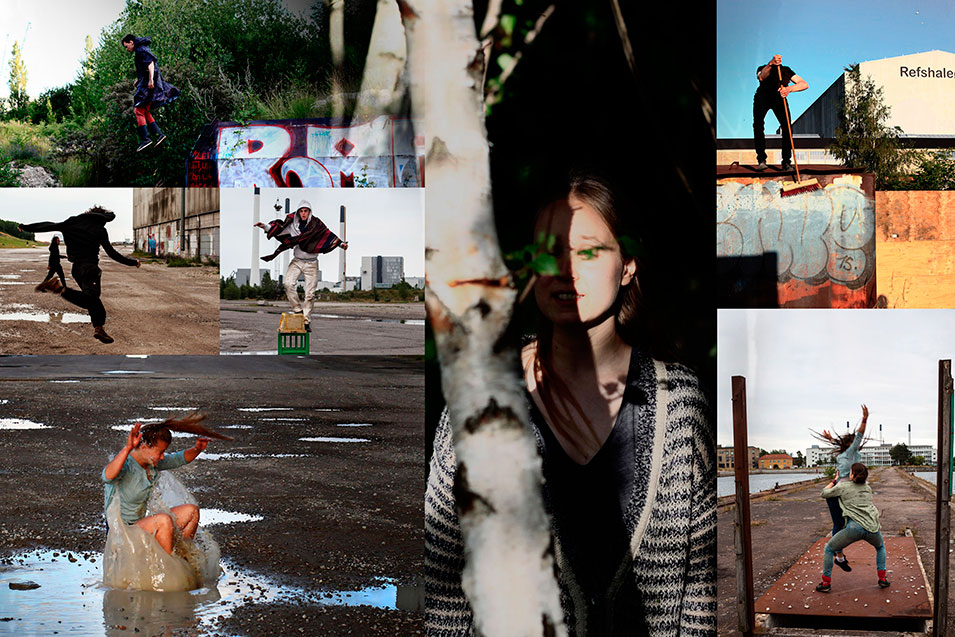 12 – by 12 performers in collaboration with Kitt Johnson
WHAT Performance
WHEN 13 – 15 & 17 – 23 Aug. 19 hrs
WHERE Refshalevej 151, Refshaleøen – see map
TICKET 135 / 95 kr
Fragile bodies in a monumental landscape
Together with Kitt Johnson, visual artist Annette Skov and musician Sture Ericson, 12 young performers create a choreographic epos for and with Refshaleøen, formerly home to the B&W shipyard, now left there as a historical witness to the industrial era right in the middle of endless landscapes, wilderness and an imposing panorama. A post-industrial landscape in-between the rational and the imaginary, the broken and the emerging.
Discover the island when it is staged for a choreographic walk which conjures up the mythology of the place. 12 dancers, artists and performers from across Europe will guide you around the place. They know every corner and every bush after having spent the summer exploring the island. Surprising pop-up tableaux staged by the performers take you to obscure and surprising places. You will meet their fragile bodies one by one in the monumental landscape and you will meet them as a group with all the strength this entails.
The European talents were chosen following a workshop with Kitt Johnson. They create their individual scenes sparred with Kitt, who also directs the performance in its entirety. Kitt is an icon and in a league of her own within European stage art,and she is admired for her unique ability to create big effects with a minimum of resources.
DURATION 90 min.
AGE from 10 years
REMARK The performance is not suitable for walking impaired, wheel chairs or prams. Remember good shoes and warm clothes.
PHOTO Thomas Seest
CREDITS
By & with Annette Skov, Annika Kompart, Charlotte Østergaard, Emma-Cecilia Ajanki, Esmeralda Nikolajeff, Fabian Krestel, Florent Golfier, Guido Vaccarezza, Hugo Mega, Kitt Johnson, Manon Siv Duquesnay, Marek Menšík, Mette Overgård, Mira Leonard, Mogens Kjempff, Nahuel Desanto, Sture Ericson, Thomas Saulgrain
Support Wilhelm Hansen Fonden, Statens Kunstfonds Projektstøtteudvalg for Scenekunst, Circus Work Ahead/EU Culture and IN SITU network, in the frame of the META-project, with the support of the European Commission (DGEAC-Culture programme)

www.kittjohnson.dk