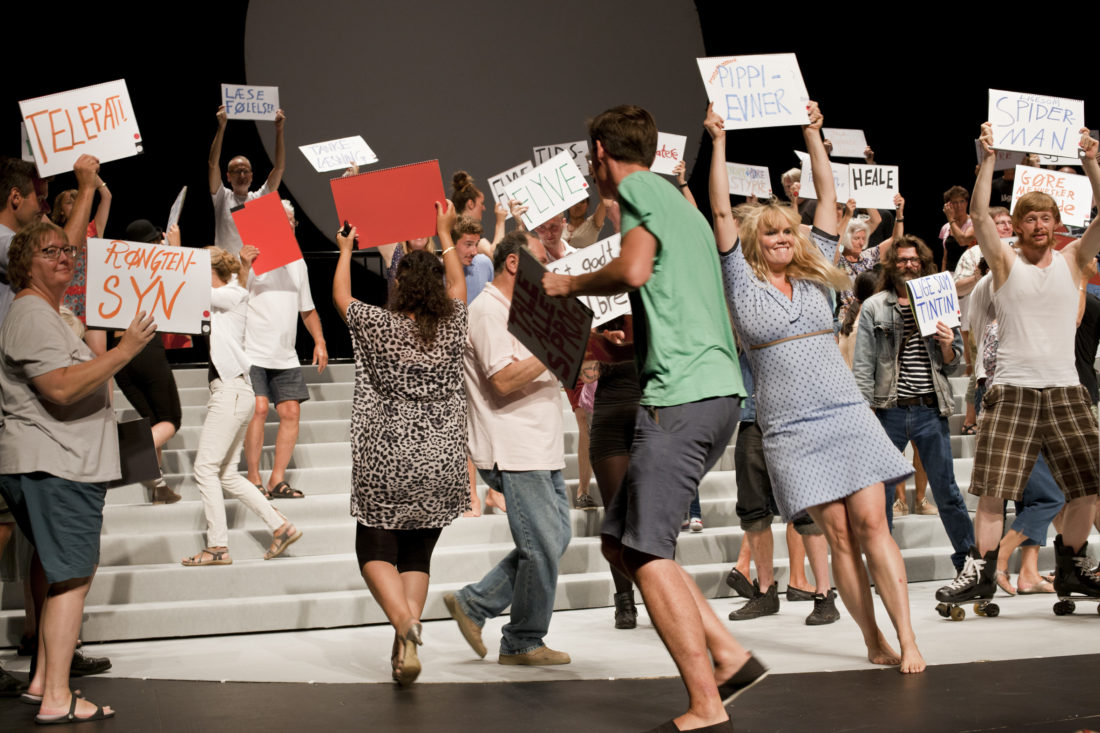 100% KØBENHAVN – Rimini Protokoll
WHAT Performance
WHEN 8, 9 & 10 Aug. 20 hrs and 11 Aug. 17 hrs
WHERE Skuespilhuset, The Royal Theatre – see map
TICKET 195 kr.
100 CITIZENS ON STAGE – A SNAPSHOT OF COPENHAGEN
Who are the Copenhageners? How do we live? Are we really the happiest people in the world? Now is your chance to meet the people behind the statistics – all laid bare – when 100 carefully selected citizens enter the stage at Skuespilhuset. Statistics about 559,132 Copenhageners, when 100 highly individual fates get together in a warm-hearted humoristic and provocative attempt to capture the true identity of the city.
51 females, 14 born outside Europe, 50 live on their own, 8 are out of work, 30 are under 25. Are they content with their city?  Are they lonely? Do they condone same sex marriage?  Do they disregard red lights when cycling?  Given the chance, what would they change in our society?
Behind the concept is Berlin based Rimini Protokoll, they are the innovative masters of the doku theatre and one of today's most interesting artist groups. Through live opinion polls and statistic curiosities blended with personal stories they challenge our perception of Copenhagen, and banalities are replaced by a diverse understanding of the city. Please note: in Danish.
DURATION 100 min.
AGE from 10 years
SUPPORT The Royal Theatre, Statens Scenekunstskole and Goethe-Institut Dänemark
PHOTO Maja Nydal Eriksen

CREDITS 
With 100 Copenhageners:
Amalie Middelboe, Amanda Møller Lützhøft, Anders Olrik, Anders Wolfsberg, Andreas Weidinger, Ane Marie Bolvig, Anna Maria Hammerbak, Ann-Lisette Olsen, Ariana-Emanuela Mrarasu, Arthur Braae Mathew, Azita Sofie Tadayoni, Benazir Braae, Bo Hagen Clausen, Bo Jacoby, Caroline Jacobsen, Chabaphrai Kanchuang, Chonthicha Kanchuang, Christian Skaurup Jensen, Christina Rath, Christopher Storgaard-Larsen, Claus Frandsen, Claus Hasling Pedersen, Diar Ali Abdul Wahid Mohammad, Dorthe Eren, Ellen Widding, Emanuel Kjærsgaard Brandes, Emil Mpho Jütte, Erik Pold, Eva Rolnæs, Evy Carstens, Finn Ankerstjerne, Frederik Treschow Iuel, Frej Elvekjær Klæbel, Garfur Zumbere, Gert Poder, Giorgio Stillitano, Gunhild Legaard, Guri Damgaard Sommerlund, Helene Marie Hassager, Henrik Grimbäck, Hikmat Hussein, Hocine Slimani, Husam Al Nouri, Ingrid Prytz, Jacob Vasco Iuel, Jan Due, Jan Villum Hansen, Jane Hartvig, Jesper Bay Eriksen, Johanne Helene Hav Hermansen, Johannes Panduro Kristensen, Julia Schmidt, Kaj Jessen, Kamma Johanne Iuel, Karl Alex Lundberg, Karsten Nielsen, Kasper Lee Jensen, Kenya Naomi Collins, Khaya Christina Mpsosula Jütte, Kipanga Typeson,Liv Vesterskov, Lóa Stefansdottir, Lotte Midtgaard, Louise Lind, Magnus Saabye Bøgelund, Magnus Thomsen, Maja Petrea Fox, Majya Kruse, Maria Harrestrup, Maria-Dorina Marasu, Marianne Lykkeberg, Marie-Louise Nielsen, Mark Winthrop, Mathilde Mortensen, Max Christian Hassager Gravgaard, Mehdi Tadayoni, Mia Kjærsgaard Larsen, Mic Collins, Mikaela Jane Pagador Hartvig, Mikkel Halbye Mindegaard, Mira Brandes, Mira Margaritha Cordsen, Mollie Fjeldsø Eggertsen, Natasja Dahl Brandi Hansen, Nelly Lützhøft Mindegaard, Nina Estrup Willumsen, Ninna Jespersen, Ole Axel Jensen, Ondine Desruelles, Pertunia Ntokazi Mposula Jütte, Richard Holby Lun, Richard Torres Mollerup Sørensen, Rikke Svendsen, Ron Kupers, Rune Kristoffer Drewsen, Solveig Lützhøft Mindegaard, Sophie Sales Carlsen, Steen Blendstrup, Thomas Bering, Tue Bonnén Riis, Villy Sørensen, Yildis Akdogan
Rimini Protokoll:
Concept & directors: Daniel Wetzel, Helgard Haug & Stefan Kaegi
Light- og sounddesign & technical director: Marc Jungreithmeier
Live-band:
Girls in Airports
Københavns Internationale Teater:
Project coordinator: Maja Nydal Eriksen
Technical director: Nils Engelbrecht
Research: Sofie Henningsen & Trine Søgaard Parmo Krog
Translation: Birgitte Curry

The Royal Danish Theatre:
Director of guest performances: Annette Berner
Coordinator of guest performances: Karsten Kruse Pudselykke
Stage manager: Rasmus Clausen
Light: Michael Franch
Sound: Karsten Wolstad, Claus Dohn & Jonas Jensen
Stage technicians: crew B
The Danish National School of Performing Arts:
Production dramaturge: Miriam Frandsen
Assistant directors: Henrik Grimbäck & Viktor Tjerneld
Sound assistants: Inuk Thomsen & Magnus Hansen
Assistant stage manager: Anna Dyrby
WATCH 100% KØBENHAVN
– THE TRAILER (9.30 min.)
WATCH 100% KØBENHAVN
– THE WHOLE PERFORMANCE
(106 min.)